Bonsoir!
Rakastan kosmetiikkatuotteista eniten tuoksuja, sillä niiden avulla luodaan itselleen ja muille mieleisiä mielikuvia (
rakastan
mielikuvia) ja toteutetaan itseään. Tiettyjen tuoksujen kantaminen muuttaa aivan minimaalisen hieman personaalisuuttani ja rakastan ihanaa vaihtelevuutta! Lisäksi tuoksujen mainoskampanjan ja tuoksupullot ovat niin kauniita!
Out of all cosmetics I love fragrances the most because with them one can create lovely mental images and vizualizations pleasant for the fragrance carrier and people around her. (or him, why not) One can fulfill and instantiate oneself with lovely scents. Putting on a certain perfume changes my personality in the slightest way, and I love that! And as a remarkable plus, the ad campaigns and bottles are amazing!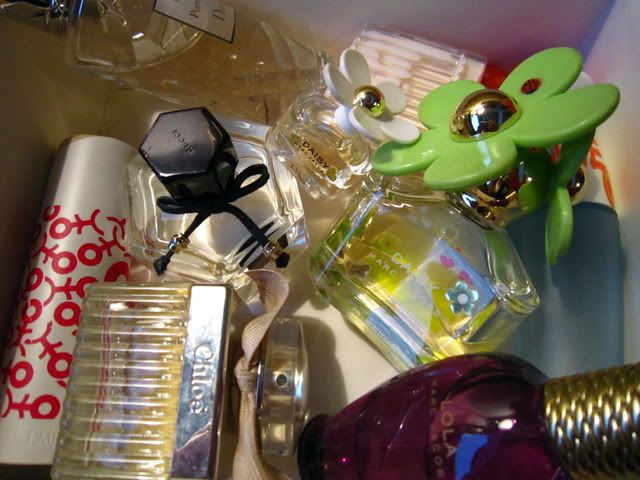 Hajuvesikokoelmani on viimekuukausina laajentunut, joten tässä he ovat!
Esittelen lempihajuveteni, joita käytän aktiivisesti ja ensimmäinen niistä on...
My perfume collection has been expanding over the last few months, so I decided to present them to you!
I'm going to present to you my favorites and the fragrances I use often. The first one is...
1. Chloé Signature EdP
Tämä tuoksu on tyttömäinen, romanttinen ja raikas. Vaikka tuoksu ei itsessään ole makea, sen olemus on ihanan suloinen ja kupliva. Tämän tuoksu tuli kokoelmaani viime jouluna. Se on aivan ihana! Minulla on myös vartalovoide, joka on täydellinen kesällä!
This fragrance is feminine, romantic and fresh. Even thought the scent itself isn't sweet at all, it's character is sweet and bubbly. I added this fragrance to my collection last Christmas. I love it! I also have the body lotion. The lotion is ideal for summer!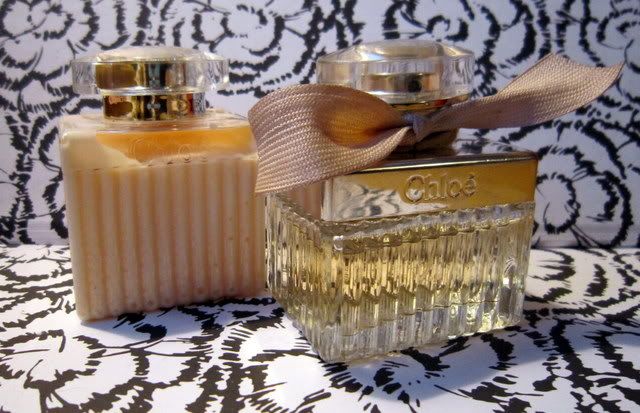 Näin paljon jäljellä.
This much left.
2. Flora By Gucci
Tämän tuoksun ostin kesällä '09 New Yorkista, Saks Fifth Avenuelta. Se on intensiivinen ja freesi kukkainen kesätuoksu, joka sopii kesälämpöön.
I got this fragrance in summer of 09 in New York City, Saks Fifth Avenue. It is intensive, floral and fresh all at once. A perfect summer fragrance that suits the heat.
3. Escale à Portofino, Christian Dior
Kerrassaan täydellisen citrussinfonia! Aivan upea kesätuoksu, jota olen kyllä vastoin sääntöjä ruikautellut syksylläkin. Joko Barcelonan tai Helsinki-Vantaan lentokentältä, hankala muistaa. Tänä kesänä silti. Muistuttaa minua jokaisella kerralla etelä-Ranskan villasta!
A perfect citrus symphony! The loveliest summer scent ever made! I have spritzed this this Autumn once or twice. Either from the Barcelona or Helsinki airport, can't remember, this summer however. Will always remind me of our villa in Southern France!
4. Lola by Marc Jacobs
7. Emporio Armani Red pour Elle by Giorgio Armani